Source: 2021 Q4 Beartracks, Jared Yates
Bob's usual October picnic was well-attended by Bearhawk folks, if not Bearhawks. With ours being recently liquidated (in both the financial and thermodynamic sense), we knew we would be driving in. But even if we'd had a flying plane, the weather close to home would have made it a no-go. A local Stinson was the only plane to fly in.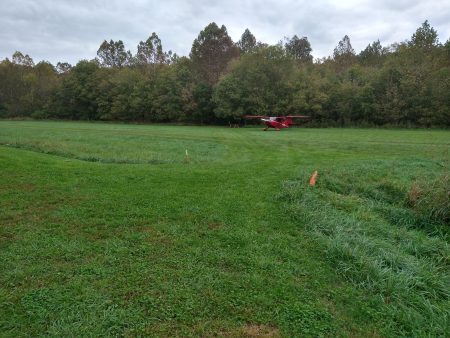 Bob's friend Cedric Jeanty came in from California to help install and test a motor and speed control system for Bob's Ultralight project. Cedric helped source a new and more powerful motor. With the new motor and system in place, the fuselage was to a point of being ready for some taxi tests. Cedric made a lap up and down the runway (photo below), and Bob offered that I could also (photo below Cedric).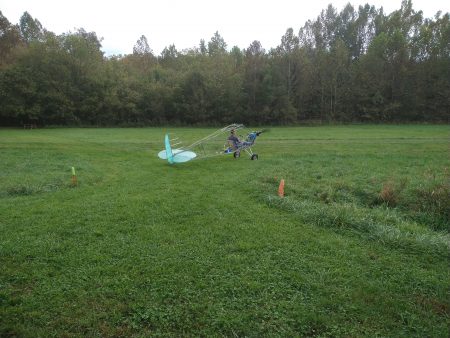 This was quite a thrill, because there are no brakes or tailwheel steering. The only steering comes from the force of the air over the rudder. While it's plenty adequate, this takes some pilot thinking, because if you want to slow down and simultaneously steer, reducing thrust also reduces steering. This would be familiar to someone used to driving most personal watercraft. The winds were erratic and occasionally gusty, which added to the challenge. I was impressed with how the motor reacted to "throttle" input. Similar to a direct-drive outrunner radio-controlled plane, it's instant and not lacking any torque. Run time will be limited at very high power settings, but with as light and low-drag as this airframe promises to be, it won't be running at high power settings for long. This is going to be a neat
machine to fly. In the next photo, Bob, Cedric, and Mike Meador prepare for a full-power run to test the temperature of the motor and speed controller. This was impressive to see. The powerplant is quieter than a C65, but not by much. The prop makes a large contribution to the noise in both cases.
Other Bearhawk folks on hand included Bearhawk 4 -Place builder and owner Chuck Morris from Michigan, Bearhawk Five builder Matt Layland from Florida, Bearhawk LSA builders Stephen and Monica Murphey from South Carolina, Bearhawk LSA builder Chuck Calvi and his buddy Mac, and Bearhawk Five builder Jay Thomas from Huntsville, Alabama.